About
Wolf Creek Pass needs your help to remain the beautiful area that you and thousands of others know and love. Out-of-state developers continue to pursue plans for a "Village" at Wolf Creek, a city of 8,000-10,000 people at the top of the Pass.
Current Status
We've been working for over 20 years to keep Wolf Creek Pass wild. Check out the current status.
Stay Up To Date
Sign up to receive emails to stay up to date on all things Wolf Creek Pass (choose Friends of Wolf Creek News).
Speak Out
Help us tell the developers and decision-makers why building a "village" for 10,000 people at Wolf Creek Pass is a bad idea.
The Latest News
Remember in 2015 when the Leavell-McCombs Joint Venture (LMJV) exchanged a private parcel to the Forest Service (Service) in exchange for Service land adjacent to Highway 160? We challenged that exchange in Court, arguing that it failed to comply with the National Environmental Policy Act, the Endangered Species Act, and other laws aimed at protecting the environment and specifically the relatively undeveloped and natural character of the Wolf Creek Ski Area, surrounding National Forest, and the federally listed Canada lynx. That exchange has now been ruled void ab initio (as if it had not taken place)!
How we got here: Early in the litigation for Wolf Creek Pass, we agreed that the Forest Service and the Leavell-McCombs Joint Venture could close the land exchange with the understanding that it would be unwound if the Court ruled in our favor.
In May 2017, the late Judge Matsch ruled in our favor on numerous grounds and set aside the Service's decision. The Service and LMJV sought dismissal of that case and vaguely claimed the land exchange was unwound.
We objected to this approach and Judge Kane agreed that the evidence in the record did not support a finding that the status quo had been restored. We participated in several rounds of briefing and additional actions to force the Service and LMJV to clarify, document, and confirm the unwinding of the land exchange.
On December 14, 2021, the Court formalized the status quo prior to the land exchange, declaring and confirming the decision and land exchange are void ab initio. This decision says nothing about the 2018 Record of Decision that grants LMJV an easement over Forest Service Lands to the private parcel. That decision has also been challenged in Court, is fully briefed, and is awaiting a decision by Judge Arguello.
Keep your fingers crossed and stay tuned for updates on that case, but definitely celebrate this one!
Please continue to follow this activity on our website or sign up for our action alerts to be notified when actions are available. #NoPillage
Our Coalition
Meet the Friends of Wolf Creek Team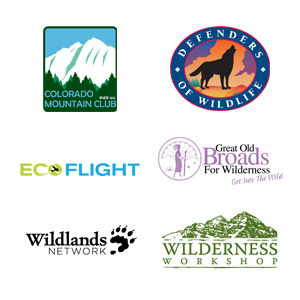 Supporting Organizations
Colorado Mountain Club, Defenders of Wildlife, EcoFlight, Great Old Broads for Wilderness, Rocky Mountain Recreation Initiative, Wildlands Network, Wilderness Workshop
Stay in Touch
Sign up for our newsletter, donate, or contact us.