About
Wolf Creek Pass needs your help to remain the beautiful area that you and thousands of others know and love. Out-of-state developers continue to pursue plans for a "Village" at Wolf Creek, a city of 8,000-10,000 people at the top of the Pass.
Current Status
We've been working for over 20 years to keep Wolf Creek Pass wild. Check out the current status.
Stay Up To Date
Sign up to receive emails to stay up to date on all things Wolf Creek Pass (choose Friends of Wolf Creek News).
Speak Out
Help us tell the developers and decision-makers why building a "village" for 10,000 people at Wolf Creek Pass is a bad idea.
The Latest News
On July 20, 2018 we filed a Freedom of Information Act request to better understand the Forest Service's decision to grant an easement to allow for construction of the Village at Wolf Creek. After months of not providing documents, we filed suit to obtain the information, and a Federal Judge has ordered the Forest Service to release documents to us every two weeks. We are posting the documents here as we receive them so that the public can remain involved in this process of understanding how the Service is making decisions about the management of our public lands.
Please continue to follow this activity on our website or sign up for our action alerts to be notified when actions are available. #No Pillage
Our Coalition
Meet the Friends of Wolf Creek Team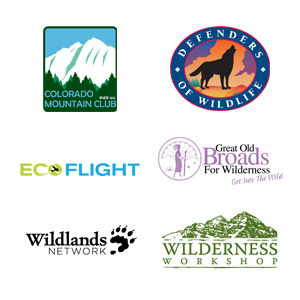 Supporting Organizations
Colorado Mountain Club, Defenders of Wildlife, EcoFlight, Great Old Broads for Wilderness, Rocky Mountain Recreation Initiative, Wildlands Network, Wilderness Workshop
Stay in Touch
Sign up for our newsletter, donate, or contact us.