About
Wolf Creek Pass needs your help to remain the beautiful area that you and thousands of others know and love. Out-of-state developers continue to pursue plans for a "Village" at Wolf Creek, a city of 8,000-10,000 people at the top of the Pass.
Current Status
We've been working for over 20 years to keep Wolf Creek Pass wild. Check out the current status.
Stay Up To Date
Sign up to receive emails to stay up to date on all things Wolf Creek Pass (choose Friends of Wolf Creek News).
Speak Out
Help us tell the developers and decision-makers why building a "village" for 10,000 people at Wolf Creek Pass is a bad idea.
The Latest News
On October 20, 2022, a Federal District Court once again rejected plans by the would-be developers of the Village of Wolf Creek to gain access across National Forest lands for the ill-conceived project. Senior Federal Judge Christine M. Arguello invalidated the Rio Grande National Forest's approval from 2019 that granted an access road across the National Forest in order to facilitate development of the massive real estate development proposed atop Wolf Creek Pass.
We are still waiting for the Forest Service, U.S. Fish and Wildlife Service, and other federal agencies to conduct an open, transparent and inclusive analysis of the environmental impacts associated with this enormous commercial development. The Court's ruling is a huge win for the wildlife and wildlands of Wolf Creek Pass.
If you're interested in learning more about this win and the case, check out our press release here and the Order here.
Please continue to follow this activity on our website or sign up for our action alerts to be notified when actions are available. #NoPillage
Our Coalition
Meet the Friends of Wolf Creek Team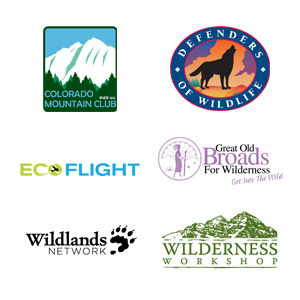 Supporting Organizations
Colorado Mountain Club, Defenders of Wildlife, EcoFlight, Great Old Broads for Wilderness, Rocky Mountain Recreation Initiative, Wildlands Network, Wilderness Workshop
Stay in Touch
Sign up for our newsletter, donate, or contact us.