About
Wolf Creek Pass needs your help to remain the beautiful area that you and thousands of others know and love. Out-of-state developers continue to pursue plans for a "Village" at Wolf Creek, a city of 8,000-10,000 people at the top of the Pass.
Current Status
We've been working for over 20 years to keep Wolf Creek Pass wild. Check out the current status.
Stay Up To Date
Sign up to receive emails to stay up to date on all things Wolf Creek Pass (choose Friends of Wolf Creek News).
Speak Out
Help us tell the developers and decision-makers why building a "village" for 10,000 people at Wolf Creek Pass is a bad idea.
The Latest News
On October 20, 2022, Federal District Court Judge Christine Arguello once again ruled that the Forest Service acted unlawfully when issuing the access decision for the Village at Wolf Creek. The Court also found that the Fish and Wildlife Service violated the Endangered Species Act when analyzing the impacts of this decision on the Federally listed Canada lynx. Both the Forest Service and the Developer, the Leavell-McCombs Joint Venture, appealed Judge Arguello's decision to the 10th Circuit Court of Appeals.
On July 21, 2023, the Friends of Wolf Creek filed a Response Brief defending both Judge Matsch and Judge Arguello's Orders and reiterating all the reasons why the Agencies' actions were unlawful.
Please continue to follow this activity on our website or sign up for our action alerts to be notified when actions are available.
Our Coalition
Meet the Friends of Wolf Creek Team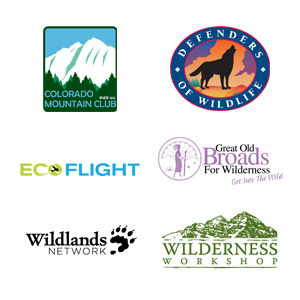 Supporting Organizations
Colorado Mountain Club, Defenders of Wildlife, EcoFlight, Great Old Broads for Wilderness, Rocky Mountain Recreation Initiative, Wildlands Network, Wilderness Workshop
Stay in Touch
Sign up for our newsletter, donate, or contact us.