About
Wolf Creek Pass needs your help to remain the beautiful area that you and thousands of others know and love. Out-of-state developers continue to pursue plans for a "Village" at Wolf Creek, a city of 8,000-10,000 people at the top of the Pass.
Current Status
We've been working for over 20 years to keep Wolf Creek Pass wild. Check out the current status.
Stay Up To Date
Sign up to receive emails to stay up to date on all things Wolf Creek Pass (choose Friends of Wolf Creek News).
Support
Court costs can get expensive. Help us fund the cause to keep Wolf Creek pass wild.
The Latest News
The Land Exchange
On December 11, 2018, a federal appeals court dismissed the latest attempt from the would-be developers of the Village at Wolf Creek to reinstate a land exchange rejected by a federal judge on Endangered Species Day in May 2017. The 10th U.S. Circuit Court of Appeals in Denver dismissed the developer's appeal, based on a lack of appellate jurisdiction. The dismissal leaves in place the District Court's findings, as well as its invalidation of the land exchange.
In May 2017, Senior Federal Judge Richard Matsch found that the Forest Service's environmental analysis violated federal law, and set aside the Forest Service's approval of a land exchange that would have facilitated the construction of a large scale resort.
Read the full press release and court opinion.
The Road Access
In a January 12, 2018 letter to the Forest Service, the Leavell-McCombs Joint Venture told the Forest Service to immediately grant access so the developers can proceed with the work needed to construct roads and "begin development of the private land immediately." On July 19, the Rio Grande National Forest announced its intention to circumvent a federal court ruling that invalidated prior approvals for the controversial Village at Wolf Creek real estate development and grant their demand!
To make matters worse, the Forest Service tried to severely limit who could comment by limiting objections to those who had commented on the project in 2012. Despite this restriction, over 2,300 people contacted the Rio Grande National Forest Supervisor Dan Dallas encouraging him to stand up for the public interest.
On February 27, 2019, Rio Grande National Forest Supervisor Dan Dallas signed a Final Record of Decision that could result in an easement to facilitate construction of the massive "Village."
Please continue to follow this activity on our website or sign up for our action alerts to be notified when actions are available. #No Pillage
Our Coalition
Meet the Friends of Wolf Creek Team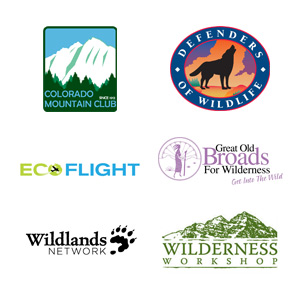 Supporting Organizations
Colorado Mountain Club, Defenders of Wildlife, EcoFlight, Great Old Broads for Wilderness, Rocky Mountain Recreation Initiative, Wildlands Network, Wilderness Workshop
Stay in Touch
Sign up for our newsletter, donate, or contact us.