About
Wolf Creek Pass needs your help to remain the beautiful area that you and thousands of others know and love. Out-of-state developers continue to pursue plans for a "Village" at Wolf Creek, a city of 8,000-10,000 people at the top of the Pass.
Current Status
We've been working for over 20 years to keep Wolf Creek Pass wild. Check out the current status.
Stay Up To Date
Sign up to receive emails to stay up to date on all things Wolf Creek Pass (choose Friends of Wolf Creek News).
Support
Court costs can get expensive. Help us fund the cause to keep Wolf Creek pass wild.
The Latest News
The developers of the controversial Village at Wolf Creek recently demanded the Forest Service simply ignore recent court decisions and instead approve road construction to begin the proposed real estate development. In a January 12, 2018 letter to the Forest Service, the Leavell-McCombs Joint Venture told the Forest Service to immediately grant access so the developers can proceed with the work needed to construct roads and "begin development of the private land immediately." #No Pillage
Read our full press release and take direct action to Keep Wolf Creek Wild.
Our Coalition
Meet the Friends of Wolf Creek Team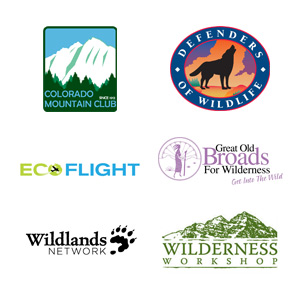 Supporting Organizations
Colorado Mountain Club, Defenders of Wildlife, EcoFlight, Great Old Broads for Wilderness, Rocky Mountain Recreation Initiative, Wildlands Network, Wilderness Workshop
Stay in Touch
Sign up for our newsletter, donate, or contact us.